Our reception room
We offer the renting of a reception room (150 m2) for up to 120 persons.

It is entirely equipped for guests and catering service. Tables, chairs, air conditioning and heating, professional kitchen.The reception room is situated above the "Chai à barrique"(barrel-storage). Glass-openings in the precious wooden floor give a beautiful view on this magical place, where the wines are matured.

Two outdoor locations, the garden and the terrace, allow an oranization of part of your events outdoors. On the first floor there is a panoramic view of the Mediterranean forest and the majestic red rocks of the Estérel Mountain-range.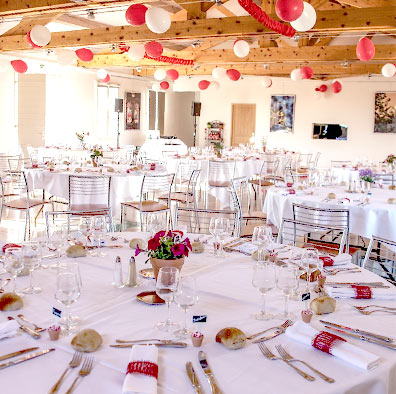 Our services and options
The wine
Since the Château du Rouët is a vineyard, all events are accompanied by wines sold at our cellar.
A free tasting at our sales-cellar allow you to make your choice of wines among our pallet of Côtes de Provence, white, rosé and red.
The caterer
For your weddings we have selected high quality caterers and restaurants to help you organize your perfect event. Feel free to choose your own caterer if you prefer to do so.
The decoration and animation
To assist you in your preparations, we make sure that the reception room is available the day before your event in the afternoon.We also offer a list of caterers, Dj's, photographers, decoraters etc.
Accomodations
A few steps away from the reception room, discover our accomodations. In a hamlet surrounded by a park of hundred-year-old trees, Our accomodations welcome you all year round